Individual custom-made products
Special design products: Sample cases, trays, boxes and decoration articles
The August Neuheuser company is known for ist high quality standard for over 90 years now.
If you have any special wishes about size, colours or special material, let us know about that. We respond to your ideas and we will plan any details together. 
Do you have a very special piece of jewelry you like to present to your customers?
Or do you want a safe transport for your expensive masterpiece?
Then you are exactly right with us! Serveral customers from the gemstone and jewelry industry have confidence in us and our products since decades.

We also produce any decorations for your shop windows or your cabinet on trade fairs exactly according to your wishes and needs.
We would be pleased to show you some samples or already elaborated special design products.
Just contact us and turn to us for advice:
E-Mail: [email protected]
Phone: + 49 6781 - 2 70 88
Fax: + 49 6781 - 2 37 22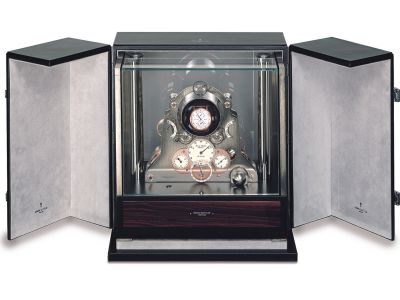 What you can see here is a custom made case for transportation and presentation of "Trilogie" watch from Erwin Sattler OGH in munich.